Ostro Passivhaus
Award
Images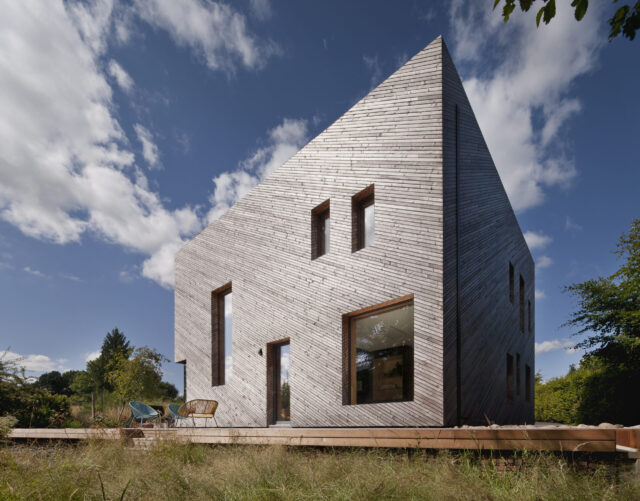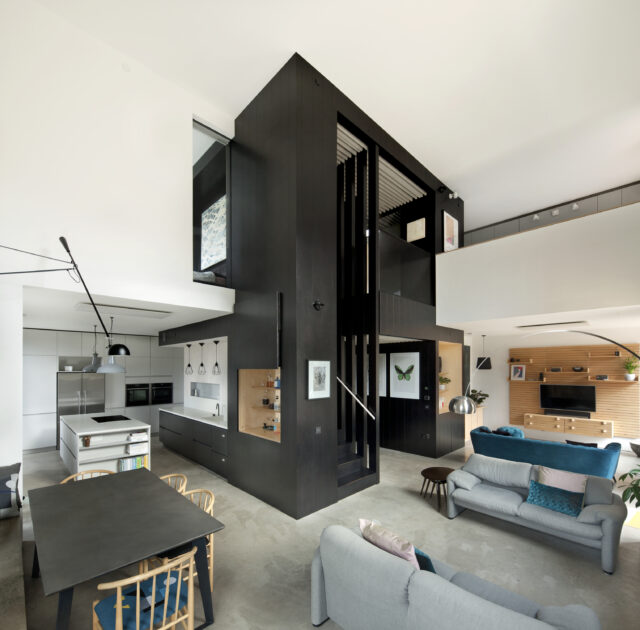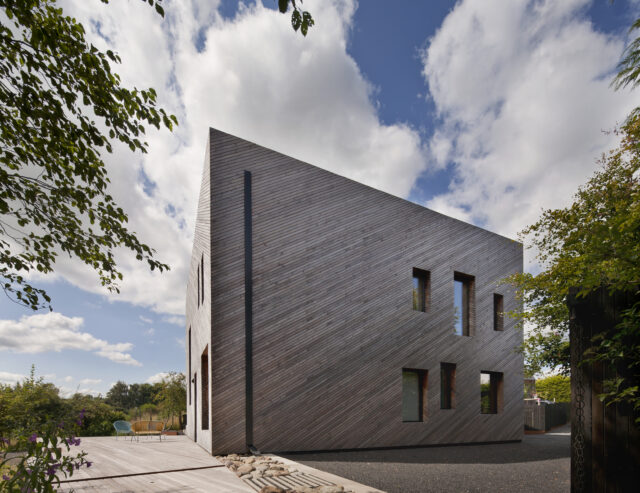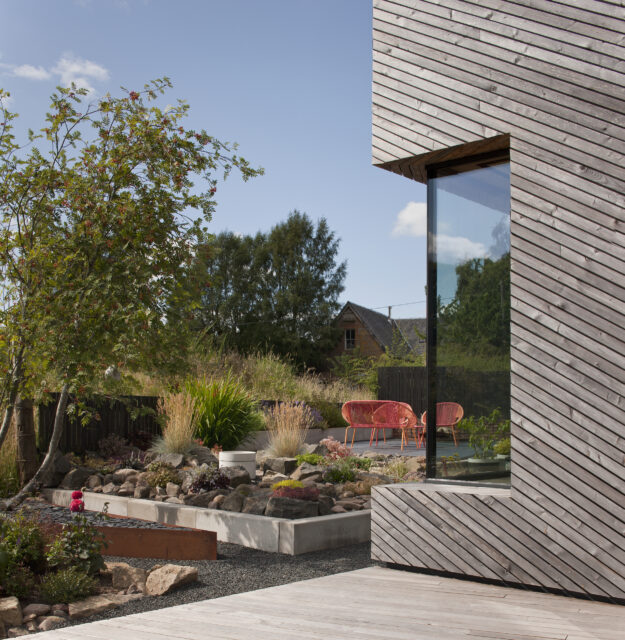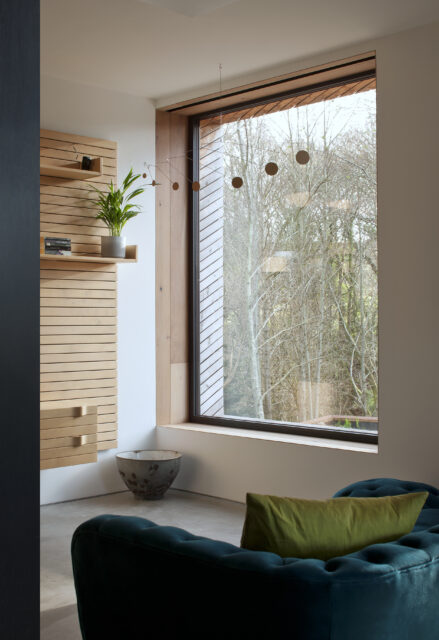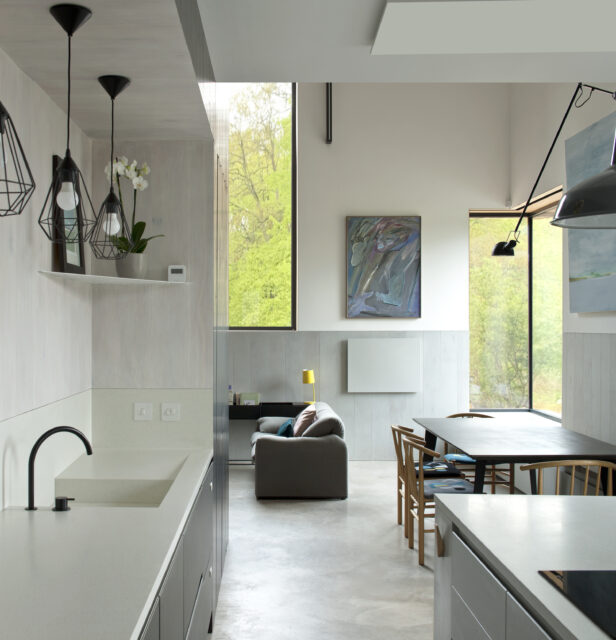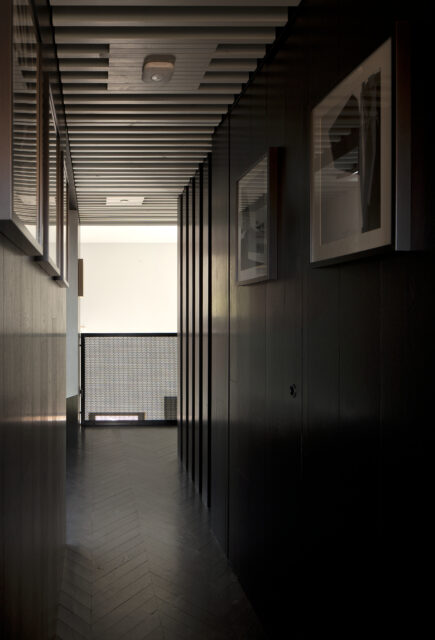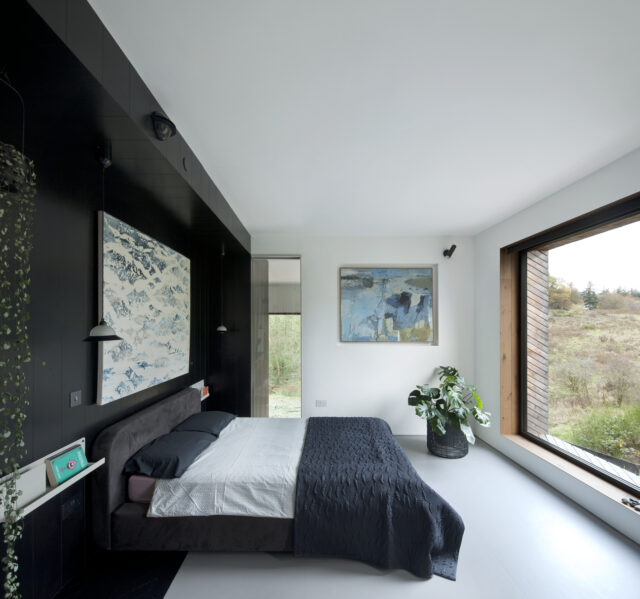 Category
Chairman's Award for Architecture
Summary
Ostro is a contemporary and exemplary low-energy dwelling in semi-rural Stirling. A Certified Passivhaus, the building achieves extremely low operational and embodied carbon emissions and attained 'Gold' accreditation in Section 7 of the Scottish Technical Standards.
Adopting a fabric first approach, the building minimises energy demand before turning to renewable technologies, which is articulated in the building's concept. Internally the spatial layout is organised around an exquisitely crafted black stained timber joinery element: a 'box within a box' that houses the stair and all wet spaces, features secret storage compartments, and serves the living spaces and bedrooms.
Hand-built by the Architect and her husband over several years on an extremely low budget, the house is finished externally in a striking, diagonally orientated, Siberian larch rainscreen cladding, left untreated, which protects the high-performance construction behind. This cladding extends into all opening reveals, creating a sculptural form with subtle and discreet variations in colour and texture.
The power-floated structural slab throughout the ground floor nestles within the highly thermally efficient raft foundation system. Purposefully exposed, this surface creates an industrial-inspired aesthetic that contrasts with the crisp, concise interior detailing of the timber joinery. Partially concealed services above de-mountable timber slatted ceilings define and differentiate the circulation spaces. The external wall construction is a thermally broken stick-built 'twin-wall' timber frame insulated with natural wood fibre insulation. A sedum planted roof provides rainwater attenuation and biodiversity.
The carefully considered services strategy maximises the efficiency of renewable technologies: PV, solar thermal panels, waste-water heat recovery and low-flow fittings. The MVHR provides clean fresh air throughout; minimal space heating is provided by Infra-Red panels. Monitoring has shown the predicted energy demand to be exceptionally accurate.
The landscaping design uses locally found materials to embed the building in its context. The vegetation is being systematically rewilded and diversified, including deliberately untended areas for wildlife.
This home is a demonstrator: it combines the best of contemporary architecture with the best of sustainability. Approaches to both the design and construction demonstrate a caring approach towards people and planet, validating that it is already possible to limit carbon emissions and energy consumption, whilst maximising health and well-being through joyful and creative architecture.
This minimal environmental impact is translated into a minimal architectural vocabulary: nothing is unnecessary or superfluous and all parts meaningfully contribute to the story of the building – it's beauty and durability in the face of the climate crisis.
Photographer
David Barbour Photography