Draw The Line Against Malaria – Face Filter
Nomination
Images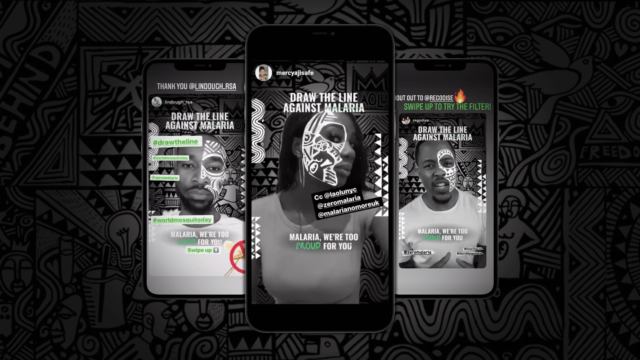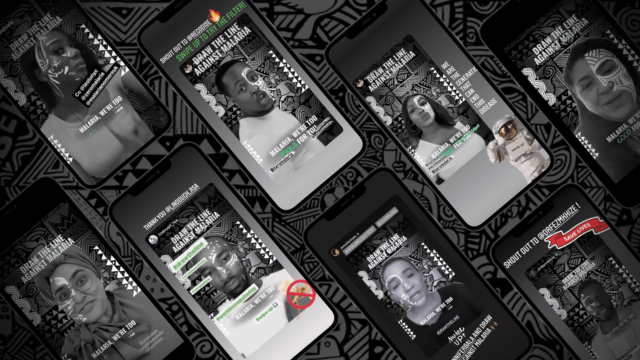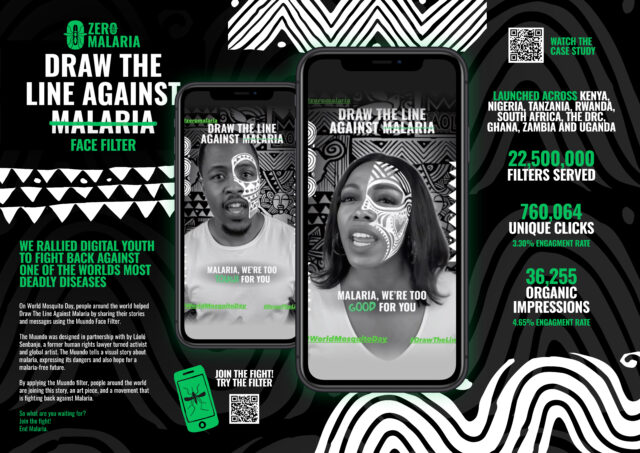 Category
DIGITAL MEDIA: Mobile/App Design
Company
Whitespace - An Isobar Company
dentsu
Client
Malaria No More UK

Summary
We worked with Malaria No More UK to rally digital youth to fight back against one of the worlds most deadly diseases.
Purpose/Challenge:
Draw The Line Against Malaria first launched across Africa in 2021, and is the latest creative campaign to come from Isobar and dentsu International's partnership to relaunch the Zero Malaria brand with the charity Malaria No More UK. The campaign aims to generate mass awareness and high visibility for the Zero Malaria movement across malaria-affected countries and beyond, and reflects the huge energy, talent, and cultural influence emanating from the African continent.
They wanted to inspire the digital youth to show support for the malaria fight and add their own voice to a collective fight against this deadly disease.
Solution:
We worked with Malaria No More UK and our partner Facebook to launch Zero Malaria's new AR Instagram filter to mark World Mosquito Day on 20th August 2021. The filter brings to life the striking visual language of "The Muundo", created as part of the global Draw The Line Against Malaria campaign.
The Muundo is a fresh new universal visual language made up of lines, symbols and patterns, the 'Muundo' created by acclaimed Nigerian artist, activist, and human rights lawyer, Láolú Sebanjo. With the launch of the filter, Instagram users can join the fight against malaria by having Muundo artwork virtually painted on their face, and by inviting friends to draw their own line against the deadly disease.
A pan-African advertising campaign was launched with Facebook to push the Muundo filter to people in Kenya, Nigeria Tanzania, Rwanda, South Africa, the DRC, Ghana, Zambia and Uganda. There are ongoing plans to keep promoting the filter and get people across the world to add their voice in the fight against Malaria.
Credits:
Elina Karadzhova - Interaction and Motion Designer
Graeme Sutherland - Creative Production Director
Daniel Sytsma - Global Chief Design Officer
Chris Davey - Head of Creative/ECD
Michael Hamilton - Senior Manager Digital Marketing - Malaria No More UK